DOMAINE JEANNOT
The prestige of fine wines
Here, we grow and produce a variety of red and white wines ranging from the south to the north of the Côte de Beaune, from Maranges to Santenay, Meursault and Pommard. All appellations are available for a memorable tasting experience: a comprehensive discovery of the elegance and unique style of Burgundy's wines.
At the heart of the historic village of Meursault, the estate spreads over 11 hectares of vineyards comprising some of the most prestigious appellations of Burgundy. Valérie, Philippe and Quentin spare no effort to produce refined, top-quality wines. All work on the estate is done manually: green harvesting, thinning out the leaves and, of course, harvesting. Production at all costs is not our goal: with smaller yields, we obtain superb grapes, a guarantee that all our wines will age gracefully.
The Domaine
A mosaic of terroirs
Quentin brought his youth and energy to make the business grow and evolve. Since its foundation, Domaine Jeannot has acquired over 11 hectares of vines on the Côte de Beaune, in the Côte d'Or region of Burgundy.
The importance of exportation has increased over years and we are proud of the growth in this area of our business. Our wines are now available in over 10 countries, with 20 different appellations, so there is bound to be something to suit all tastes.
People
Valérie and Philippe founded the estate in 1997. Quentin joined them in 2014.
Climats
The estate makes wine from grapes harvested independently in five different villages of the Côte de Beaune.
Experience
Quentin trained first and foremost on the job with his parents. He then furthered his training at the Davayé winemaking school, near Mâcon.
Vines
Our vineyards are grown according to organic farming guidelines (even though we are not officially certified). We use mechanical weed control, and treat our vines with copper sulfate.
Vinification
All our grapes (red and white) are destemmed and brought to low temperature. They mature in our cellar between 9 and 18 months.
Our customers
Thanks to the trust of our clients, our wines are sold across the world.
We are based in
Meursault, Bourgogne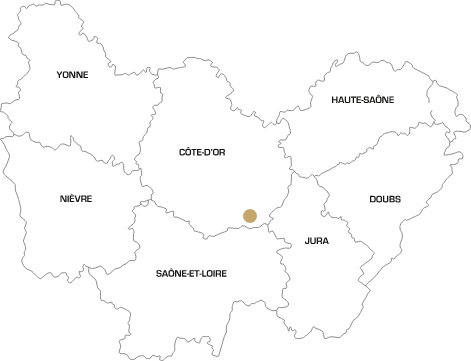 Located between Volnay and Puligny-Montrachet, Meursault is a winegrowing village where you can discover artisan winegrowing houses as well as large commercial estates.
An Appellation d'Origine Controlée (quality certification) since 1937, Meursault is proud to count no less than 19 different Premier Crus climats (certified parcels producing first growth wines), with highly prestigious names: les Charmes, les Perrières, les Gouttes d'Or.
Great wines of international repute have risen from the local soil, a perfectly balanced mix of clay, lime and marl. This quality ecosystem allows winegrowers to make extremely fine white wines with a typical golden, emerald-tinted color.
DOMAINE JEANNOT
An exceptional land in Burgundy
HARVESTING THE FRUIT
of our experience
The French notion of terroir refers to the perfect combination of a vine type, a location, and human work through the seasons. As winemakers, we help our terroir express itself through careful pruning, green harvesting and thinning out leaves if necessary. We favor a minimal range of human interventions to let the grapes mature perfectly, while we wait for the perfect time to harvest. Agriculture and art combined.
Even though the grape variety doesn't change, each year produces its own unique vintage.
Year after year, a different wine emerges from a similar process.